The road to Waikiki not Kona
Pat Clancey's training blog for the Waikiki Rough Water swim on Labor Day
I started this blog as a training diary in the 3rd week of my Pre-Competitive Phase of training for the Waikiki Rough Water Swim. I am using workouts from Dave Scott's Triathlon Book. In the Pre-Competitive Phase of training, the faster workouts are at the end. I will do 6 weeks of this type of training, them move into the Competitive Phase of training where the order of sets will change. In the Pre-Season phase, the previous phase, the faster sets were at the start of the workout.
Pat Clancey displays physique after brothers race to the horror of niece, Katie on July 19, 2007 at 246 pounds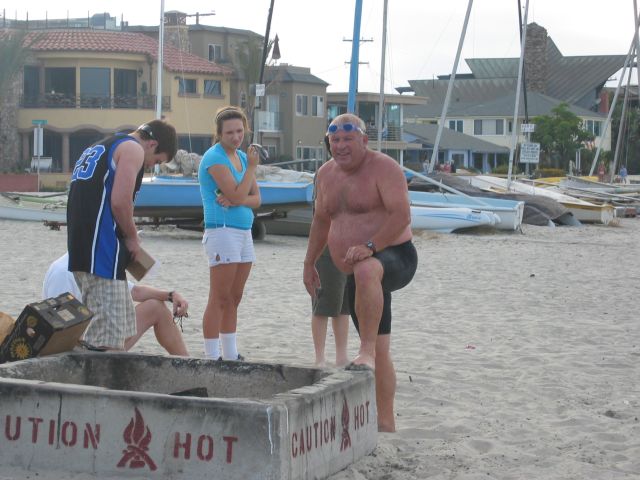 Week 3 - Competitive Phase - Monday September 3, 2007 9:00 AM Waikiki Rough Water Swim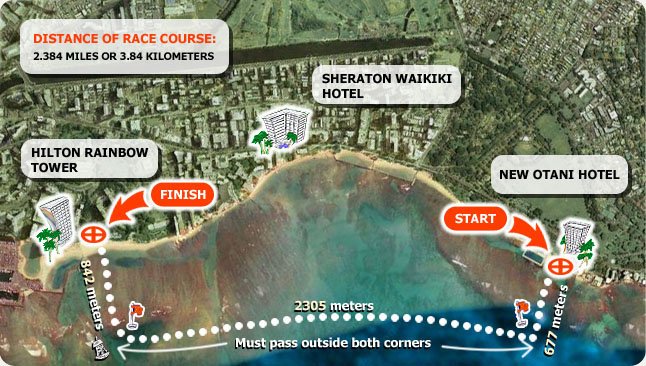 Arrived Thursday August 30 in Hawaii. Swam with Kim the length of the beach up and back Thursday evening at Ala Moana (about 2000 yards). Friday morning we swam over at the Hilton Hawaiian Village over a reef and out into the Kaiser Channel. We had to climb over the reef. Ugh. Earlier we had met a lady who was also doing the race who told us about a path through the reef. We discovered it on the way back. The path is about 50 yards from the pier and marked outside the reef by a piling laying on the bottom. Find that piling and swim in the same direction as the piling and it will lead you through the reef. Outside in the Kaiser Channel we discovered a strong current heading out. Need to keep that in mind for the race. On Saturday AM we swam over at the race start, Sans Souci beach. I got caught in the surf zone, and nearly go hit by a surfer. I apologized to the surfer later, he said he saw me and there was no problem. Hey some surfers can be nice. I rested Sunday, Kim swam with the Aussies over at Sans Souci beach. She makes friends easily.
On day of the race, Monday, Labor Day, I woke up before 6:30 AM, packed my clothes, dressed for the swim and left for the race start just after 7:00 AM. Had a cup of coffee and pastry on way. Arrived at race start about 7:45AM. There was 3 station check-in process. It went smoothly. At the first station you had your race number written on arms and legs, then on to the next station to get race chip, and finally last station to check in personal items for transport to the race finish at the Hilton Hawaiian. While standing around at the race start, we met Hobie from Santa Barbara who swims year round without a wet suit. Crazy. We also met a guy and his daughter from Italy who lives in Hawaii. Kim just seems to keep making friends. There was a stir coming out of the Aussie camp, that the current was strong in the Kaiser Channel and instead of swimming directly into the beach after reaching the last mark, and a strategy was to swim 50 yards past the mark and then swim into the beach. The idea was there was less current over on the other side of the channel. I didnt know what to think, Were the Aussies up to some trick.
The race had about 700 swimmers divided into 4 heats. The first heat went off at 9:05 AM, followed by the other heats in 5 minute intervals. I was in the third heat and Kim was in the second heat. Another San Diego resident, Jo Ann Lamott was in the 4th heat. She is the sister of Jenny Lamott, a many time participant and winner of the Tugs-Swim-Run-Swim race as well as a multiple Ironman finisher in the early 1980s. Here is a picture taken Saturday AM of the race start taken about 500 meters out from the beach.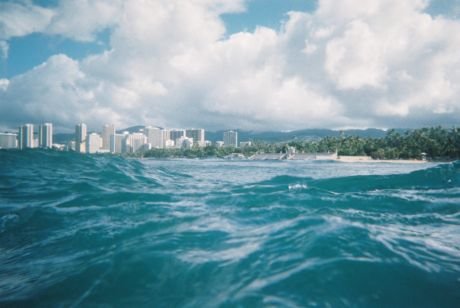 I was as nervous as I had ever been. This was going to be a tougher swim then the Ironman swim. The gun went off for the first heat. There didn't seem to be as many swimmers as I had expected, that was good. Not crowded. The gun sounded again and the second heat was off. Swimmers in the second heat, had different color swim caps. Then the gun sounded again and I was off. I reached the first buoy in about 12:41(677 meters), as I neared the buoy, I found myself about 20 yards left of buoy, a little off. I made a right turn and headed for next race marker. The course was marked with 13 race markers including 2 Orange triangle balloon first and last markers. The other 11 markers were flags with a marker number. I would say they would were about 200 meters apart. Navigation down the swim course was aided by the sight of two twin tower buildings down near the Hilton. I was planning to start slowly and pick up the pace as the race progressed. It was a little choppy, but not bad. I felt a little seasick and my left arm hurt a little, probably due to some adjustment I was making in my stroke because of the chop. As the swim progressed, I was discovering what I had discovered in my training. My wind was good, but I just didn't seem to have any strength to go harder. I think at about marker 6 or 7 my total race time was about 35 minutes. At about marker 8 or 9, I swam over some scuba divers. The water visibility was good, the bottom was visible all the way down to the final marker. My time at marker 12 was about 55-56 minutes. I estimated that to be about 1000 meters to the race finish. So I would estimate my finish time to be about 74 to 77 minutes. Here are some pictures taken Friday AM of the race course looking back to race start from the Kaiser channel to the race finish at the Hilton Hawaiian Village.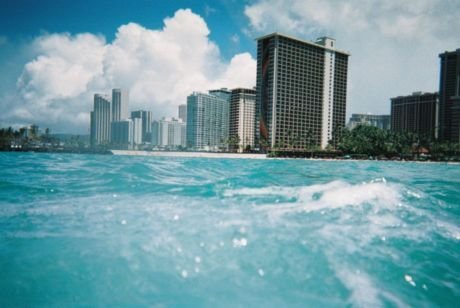 As I was approaching the the final marker, I was thinking about the Aussie strategy. After making the turn, should I turn in directly to the beach or swim past the mark. But to tell the truth, I don't know what I did, I just got into all sort to get in all sort of problems. Instead of swimming directly in, I thought I was swimming directly in, I did end up over on the left side of the channel. I don't know how I got there. A race marshal told me to get back over in the channel. I swam about 20 strokes and looked up, and the same race marshal was still telling me to get over in the channel. I am going nowhere, caught in a current. The swells seem to push me forward. I kept swimming and finally reached the cement piling Kim and I discovered just outside the reef and about 50 yards from the Hilton pier that leads to a path through the reef. This a handy detail to know, in case of a low tide. I finally finished in 81 minutes. 16th in my age category.I think I lost about 3 to 5 minutes in the Kaiser Channel due to faulty navigation. I didn't do a good job of finding a marker on short to swim towards. Just after I finished, I felt nauseated and like I was going to feint. Kim got me to lay down for a few minutes, and I felt fine. I now think, the nausea, I felt in the race was due to dehydration. Maybe a little less celebration in races. Save the partying for after the race. I also wish i would have taken time splits for each marker to get a feel for my pace. I forgot to set my lap time when reaching the last marker. If I had, I think I would have had a better idea of how much time I lost in the channel. Kim swam a 73 minutes and finished 5 in her age category.
Overall, this was a great experience, paying tribute to and training for one of the Ironman events. After all the hard training and using Dave Scott's training philosophy, I feel a like Duane Bobick. A up and coming boxer in the 70's. I'll never forget his fight with Ken Norton on ABC Wide World of Sports. There was a music video of Bobick training shown before the fight. The song was Jackson's Browne "Running On Empty". Bobick was interviewed during the video of about how much leaner he was, how much stronger he was, how much harder he could hit, and on and on. When the fight starts, Bobick and Norton go out into the middle of the ring and Norton throws one punch and down goes Bobick out cold. Bobick forgot to mention one thing. He had a glass jaw. Ocean swimming is my glass jaw, but when i started training for this race in April, I couldn't swim 100 meters. I wasn't able to complete a workout until about 7 weeks before the race. But I did it.
Week 2 Competitive Phase - August 27 - Sept 2
| | | | | |
| --- | --- | --- | --- | --- |
| Day | Where | Workout | Comments | Total |
| Mon | YMCA(Meters) | 10x25 - 24-25 - 10x100(AT) on 2 min 1:41 - 1:46 - 6x100 on 3 min 93-90 | One week from D-Day, didn't feel good as Sat. | 1850 |
| Tue | Plunge(Yards) | 10x20 - 17- 18 - 10x100(AT) on 2 min - 1:40-141 - 3x200's(VO2) - 3:22 3:20 3:28 | Forgot my swim suit and swam in my walking shorts. Man that was tough and the times really dragged. Next Swim will be in Waikiki, Thursday. Eve. | 1850 |
| Wed | | Rest Day | | |
| Thur | Ala Moana Beach (Yards) | Swim 2000 yards with Kim, start at Diamond Head side and swim to far end. There are white poles spaced about 500 yards a apart from the middle to the end. My splits are 11:09, 10:08, and on the way back 8:30, 8:27. | Kim and I stop at each pole and exchange idle talk. Felt ok, swam the last leg at race pace. Feel Ok. | |
| Fri | Swim WRS course finish (Yards) at Hilton Hawaiian Village | Kim and I swim out past the reef and pier about 600-700 yards and back during low tide. | Before swimming we come across Shannon and Peggy who are doing the race. Peggy tells us she found a clear path through the reef. While swimming out we are unable to find the path, so we climb over the reef. We also swim against a strong current when coming back in. Still can't find the path. Upon finishing, we we swim back out to the reef and find the path. We finally located it. About 50 yards from the pier and marked by a cement piling on the outside of the reef. Good to know for the race finish. | |
| Sat | Swim WRS course start (Yards) at Sans Souci Beach. | Kim and I swim out past the wind sock marker. | We experienced a strong current out past the marker. I drifted or am pulled into the surf zone and almost get nailed by a surfer. He spots and avoids me. I apologize, later. He is a pretty nice guy. He gives us a few tips about the race. He had done the race a few years before. After we get out the lifeguard posts a sign warning of strong currents. | |
| Sun | | Rest | Spend Sun Evening at Dukes with friends Brian, Jerry and their wives. Had a great time. Figured it was time to break up when the the Blood | |
| | | | | |
The Plunge - Mission Beach - San Diego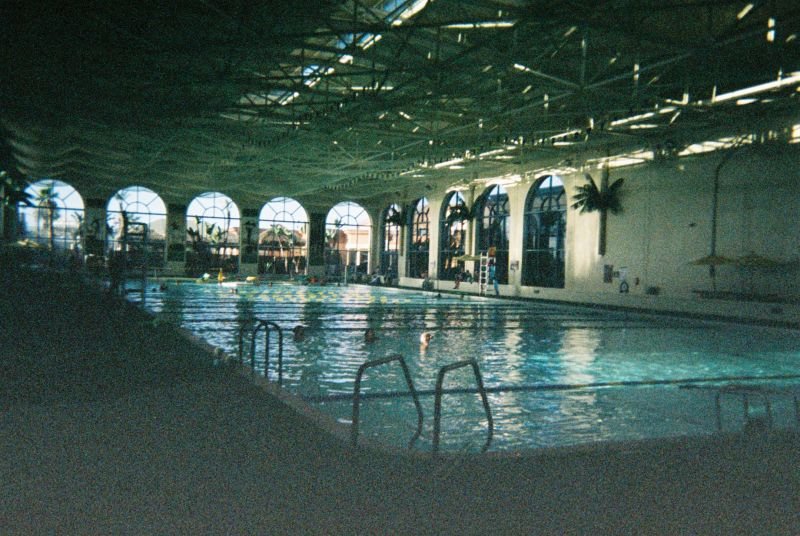 Week 1 Competitive Phase - August 20 - August 26 (8700 meters - 240 pounds)
The Competitive phase of training has a change in the order of sets. Medium, Fast, and Slow. Also, more AT workouts. I will maintain this phase for the next 2 months. Hope to swim in the tri club aquathons in Sept and Oct.
| | | | | |
| --- | --- | --- | --- | --- |
| Day | Where | Workout | Comments | Total |
| Mon | | Rest | Went for a bike ride after work. Disappointed that Cabrillo Monument is closed at 5:00 PM. I don't understand. Riding out to Cabrillo during the summer evenings was one of the great secrets around San Diego. Not much traffic in the evening. Beautiful. Lockout, ugh! | |
| Tue | Plunge(Yards) | 10x20 16-17 - 3x200(VO2) - 2:58 2:57 2:55 - 6x100's(SRT) on 3 min - 86 - 80 - 6x100's(AT)on 2 min 88-90 | Plan to keep all workouts under 2000 this week. Was hoping to better with the 200's. Seems like i need a few to warm up. Same with the 100's, couldn't get under 80. Happy with the AT 100's. Swam good times comfortably. | 2000 yards |
| Wed | YMCA(Meters) | 10x25s 23-24 - 3x200's(VO2) 3:26 3:20 3:14 - 6x50's 41-42 - 800M LSD 15:19 | First 200 was tough. After that times improved. Can get a 50 under 40. The LSD was slow. I used floats. | 2000 |
| Thur | YMCA(Meters) | 10x25 23-25 - 6x100's on 3 min - 90-91 - 2x100'sAT on 2 minutes | Couldnt get the 100's under 90. Broke off workout, because band-aid on my arm came off. Has a skin biopsy today. Weighted 240. Have an appointment in a couple of weeks to receive some therapy on my Achilles tendon, hope i can get that fixed and start running again. | 1050 |
| Fri | YMCA (Meters) | 10x25 24-25 - 10x100(AT) on 2 min - 3x200(VO2) 3:19 3:17 3:17 | | 1850 |
| Sat | YMCA(Meters) | 10x25 22-24 - 6x100(SRT) on 3 min 92-89 - 8x100(AT) on 2 min - 101-97 | Felt great, but still have difficulty getting 100's under 90 | 1850 |
| Sun | YMCA(Meters) | | Went to the pool with Sean and played around just doing some 25's. | |
| | | | | |
Week 6 (Last Week) - Pre-Competitive Phase - August 13 - August 19 (11850 meters - 237 pounds)
So ends my Pre-Competitive phase of training. I will start the Competitive phase of training next week. Probably only one week. Next week is the week before the race. It will be a taper week. When i started this phase 6 weeks ago, i could not complete some of these workouts. During the weeks 4-5 i was able to add more than planned intervals.
| | | | | |
| --- | --- | --- | --- | --- |
| | | | | |
| Sean demonstrating proper stroke mechanics | Left Arm | Right Arm | Sean showing off | YMCA |
| | | | | |
| --- | --- | --- | --- | --- |
| Day | Where | Workout | Comments | Total |
| Monday | YMCA (Meters) | 800 LSD - 15:42 - 8x100 on 2 min - 1:42 - 1:49 - 1x400 6:49 | Had planned to do 3x400's, but felt tired so i did just one 400. Unsure as to i whether i should start tapering a little. | 2000 meters |
| Tue | Plunge (Yards) | 10x20 16-17 - 8x100 on 1:50 91-96 - 3x200 2:59 2:59 2:57 - 12x100(SRT) on 3 min 79-86 | Hoped to have some SRT 100's under 80, but only got one. | 2800 yards |
| Wed | Rest | | Take a day off and see how i feel on Thur. Also, had to get home after work to make some tugs calls. | |
| Thur | YMCA (Meters) | 500 LSD 9:28 - 5x100(AT) on 2 min - 1:40-1:44 - 8x100(SRT) - 90-93 | Cut back on LSD and AT. Planned to do 10 or 12 SRT 100's. Still fatigued. | 1800 meters |
| Fri | La Jolla Cove | Swam about a mile, worked on navigating to markers. | Still fatigued. | 1600 meters |
| Sat | YMCA (Meters) | 20x25 (WU) 22-23 - 500 LSD 8:47 - 5x100 93 89 89 89 89 | Scaled back this week to see if i could see any improvement speed, also evaluate if a light week is a good taper. Times were faster, LSD pace under 4:30 compared to 4:45- 5:00 in the past weeks. Also, had 4x100 under 89. Arm are still sore. Probably from all the 100's i did this week. A typical Tom Warren use to do 30x100's (length wise) at the plunge everyday. | 1500 meters |
| Sun | YMCA (Meters) | 10x25'x (WU) 24-25 - 1000 LSD 18:07 - 3x200 on 4:30 3:17 3:13 3:10 - 6x50 on 2 min 44 42 42 41 41 41 | OK pace on the LSD, had to work a little to maintain the pace. Best set of 200's in years. 50'ok, but i would like to get some under 40. Tough. | 2150 meters |
Tugs Track team assembles at local beach bar after Tue swim at Plunge to go over race tactics for upcoming AFC race. Since the AFC does not provide beer after race, important matters such as who will mule in beer to the race finish, how much, how cold, and what kind are necessary for the Tugs team.
Week 5 - Pre-Competitive Phase - August 6 - August 12 (15250 meters - will weigh in tomorrow)
| | | | | |
| --- | --- | --- | --- | --- |
| Day | Where | Workout | Comments | Total |
| Monday | YMCA(Meters) | 1200 LSD - 23:47 - 10x100 on 2 min - 1:47 - 1:57 - 2x400 7:03 6:55 | Times were slower than last week, wind ok, just can seem to go any faster | 3000 meters |
| Tuesday | Plunge (yards) | 10x20 WU 16-17 10x100(AT) on 1:50 92-97 - 6x200(VO2) on 4 min 3:08 3:06 3:09 3:05 3:05 3:02 8x100(SRT) on 3 minutes - 84 83 81 82 83 82 84 81 | All time workout record for distance. Photo op with Deano failed, due to weak battery on Camera. AT and VO2 times were slower, but 100's were good. Need to get them under 80. Met Tom Warren in AM to film Tugs web site commercial and some bits for the John Clancey Race video. | 3200 yards |
| Wednesday | Plunge(yards) | 10x20 WU 16-17 - 1000 LSD 16:56 - 2x400 6:30 6:29 | Failed to get up in AM to swim, but happen to be over at the Wavehouse catching First Class Fiction concert with a couple of Buds, then decided to swim at the Plunge. Swam everything hard. Good wind, no speed. I was thinking last week, i need to do more hard 100's. Maybe i will cut back on some other stuff and start doing more hard 100's. | 2000 yards |
| Thursday | YMCA(meters) | 800 (LSD) 14:19 - 8x100(AT) on 2 Min 99-1:45 - 10x100(SRT) on 3 min 91-97 | Less on LSD and AT, and more on SRT. Need to work on speed. On arrival, I spot Doc over a lane. We mix it up on during the LSD. He waxes me. Memo - add to hit list. | 2600 meters |
| Friday | La Jolla Cove | 2 mile swim - 66 minutes - with some stops | Kim and I hook up Deano, he shows us the way from the Cove to Shores. Really felt good on this swim. The sky was overcast, but water temp was great. Kim and I work on drafting on the way back. Deano splits. Thanks Deano. | 3200 meters |
| Saturday | YMCA | 10x25 WU 23-25 - 12x100 SRT - 91-93 | Due to time, no time for AT or EXP workout, Just SRT. Felt tired. | 1250 meters |
| Sunday | | Rest | Wanted to swim, but felt like a I need a day of rest. Worked all day getting a couple of Tom Warren videos up on the web site. | |
Week 4 - Pre-Competitive Phase- July 30 to August 05 (14700 meters - Weight 237 pounds)
This weeks workouts seem to be a turning point, instead of trying to just do a workout, I am starting to attack the workouts to get faster times. Also seem to be generating some action. Others are joining in on the action. Adds to the fun.
| | | | | |
| --- | --- | --- | --- | --- |
| Day | Where | Workout | Comments | Total |
| Monday | Kellog Beach, Point Loma | Meet up with Kim. We do 4x75 yard build ups easy, 75%, 95% | Felt good | 1000 yards |
| Tuesday | Mission Beach Plunge(yards) | 10x20 WU 16 seconds - 10x100 on 2 minutes 89-91 seconds - 5x200s on 4 minutes 2:55-3:01 - 6x100s on 3 minutes 82-85 | Best workout so far. Deano jumps in then next lane. Hellos exchanged | 2800 yards |
| Wednesday | YMCA(meters) | 10x25 WU 23-25 seconds - 1200 LSD 22:52 - 8x100s on 3 minutes 95 94 93 93 93 92 93 92 | Disappointed in my LSD time, really having difficulties improving that time. My pace is about 4:50 for 250 meters. Need to get that down under 4:30. But happy with 100's. A few weeks ago, the splits were 97 - 100. Goal is to get as many of those 100's under 90. | 2250 meters |
| Thursday | YMCA (meters) | 1200 LSD 23:39 - 10x100 on 2 minutes 1:45-1:49 - 2x400 6:59 6:53 | Once again the LSD time is not good. Pace for 250 meters was about 5:00 minutes (ugh). Hate those 100's on 2, but feeling better, probably need to start working harder on them. The 400's were good. I had good wind, but my strength is not good. I think i need to work in that area. I was planning to do more 200's and 400's, but instead I think I need to work on strength instead. More 100's on 3 minutes. Get those 100 time's down. I need to check my weight, too. I been having Protein smoothies for lunch and staying away form Mitch's candy stash at work. I slipped yesterday. No time for any cross training like biking or weights. Can't run due to Achilles tendon strain. Starting to walk without hobble.. | 3000 meters |
| Friday | YMCA (meters) | 10x25 WU 23-26 - 10x100 on 2 minutes (AT) 1:41-1:44 - 8x100 on 3 minutes 89-91 (SRT)- 6x50 on 2 minutes 42 (EXP) | Really felt good during this workout. Don who is training for the Ironman jumped in. Felt great in the AT 100's. Finally went under 90 for the SRT 100's. As good as I felt today, it going to be hard to get any faster. Same for the 50's. | 2350 meters |
| Friday | Kellog Beach | Sighting drills | Met Carol and Kim. Expecting a hard workout, but Kim is planning to do the Tour of Buoys race at La Jolla Cove Sunday. 5 Miles. She wanted an easy swim. I'm a lucky dog. | 750 yards |
| Saturday | | Off Day | Did some father-son bonding watching the Movie "300". I may have to revisit my child rearing techniques. | |
| Sunday | YMCA | 10x25s, 24-26 - 1200 LSD 22:27 - 3x200 on 4:30 3:19 3:16 3:18 - 2x100 90 88 - 6x50 42-43 | While arriving at the YMCA around 2:00 PM, Rich, a Y workout nemesis arrives. While Rich infrequently swims anymore, he is always trouble in the pool. Jumping in on the LSD and 200's. My LSD and 200 times improve. | 2550 meters |
Kellog Beach located between Point Loma and Shelter Island in San Diego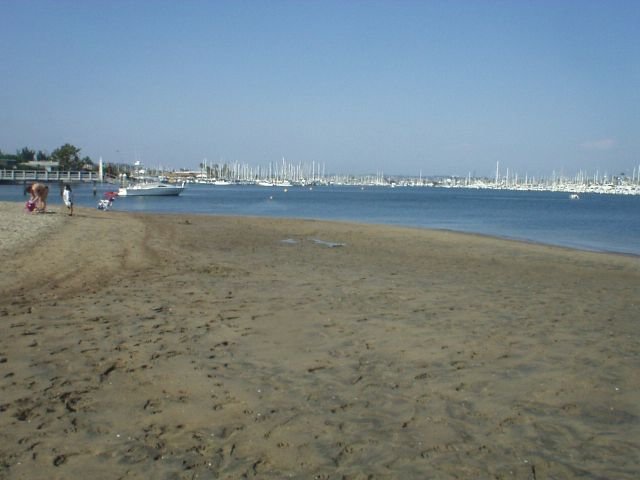 Week 3 - Pre-Competitive Phase - July 23 to July 29 (About 13500 meters - weight 246 pounds)
| | | | | |
| --- | --- | --- | --- | --- |
| Day | Where | Workout | Comments | Total |
| Monday | YMCA(meters) | 10x25 WU(warmup) 24-26 sec - 1100m LSD 21:11 - 10x100 on 2 minute 1:46-2:00 minute - 400m 7:02 - 150m 2:26 | Wanted 2x400's on end but tired, but that 400 was a highlight | 2800 meters |
| Tuesday | Mission Beach Plunge(yards) | 10x20 WU 16 seconds - 10x100 on 2 minutes 90-92 seconds - 4x200s on 4 minutes 2:58-3:04 - 6x100s on 3 minutes 84-86 | After seeing doctor and weighing 246 pounds, I make a right turn to the Smoothie shop instead of left turn to the Sandwich shop after leaving the Post Office. While swimming at the plunge Bryan C jumps in the next lane. Pleasantries exchanged during sets. Later Deano stops by after recognizing my "figurine". More pleasantries exchanged. | 2600 yards |
| Wednesday | Kellog Beach, Point Loma | Meet up with Kim M. We swim about 1200 yards or 23:25. Then do some 5x125s 2:00 - 2:08. | Kim working on improving her kick by trying to kick more during the 125's. It is winding her. She decides to use her normal kick in our last 125. She kicks my butt. I will encourage her to keep working on her kick. | 1825 yards |
| Thursday | YMCA(meters) | 1100M LSD 21:12 -10x100 on 2:00 minutes 1:47-1:52 - 4x100 on 3 minutes 95-97 | Used floaters on LSD. Not enough time to finish 100's on 3 minutes. Only did 4 instead of 6 | 2500 meters |
| Friday | YMCA(meters) | 1100 LSD - 20:51 - 7x100's on 3 minutes 90-96 - 6x50's on 2 minutes 42-44 | Used floaters on LSD. Hurt during LSD and 100's. But felt good on 50's. | 2100 meters |
| Saturday | YMCA(meters) | 1100 LSD - 22:51 - 3x200 on 4 minutes 3:28, 3:20, 3:17 - 6x50s on 2 minutes 41-42 | Felt horrible on LSD. No floaters. A lot slower LSD. Finally starting to get some fire. good 200 and 50 times for me. | 2000 meters |
| Sunday | | Rest | Comic Com with Sean. Two girls sale us their memberships. Father and son pose as 2 sisters Kate and Anne. | |

Dave Scott identifies 5 types of training Explosive Speed, Sprint, VO2 Max, Anaerobic Threshold, and Distance. He also identifies 4 seasons of training, the Pre-Season, the Pre-Competitive, Competitive, and Post-Competitive. During each season, he selects a number of types of workouts and the order of the workouts. I am trying to heed to Dave's training plan. If you would like more detail, I recommend the book.

Pat in July 1982 David Pain at about 165 pounds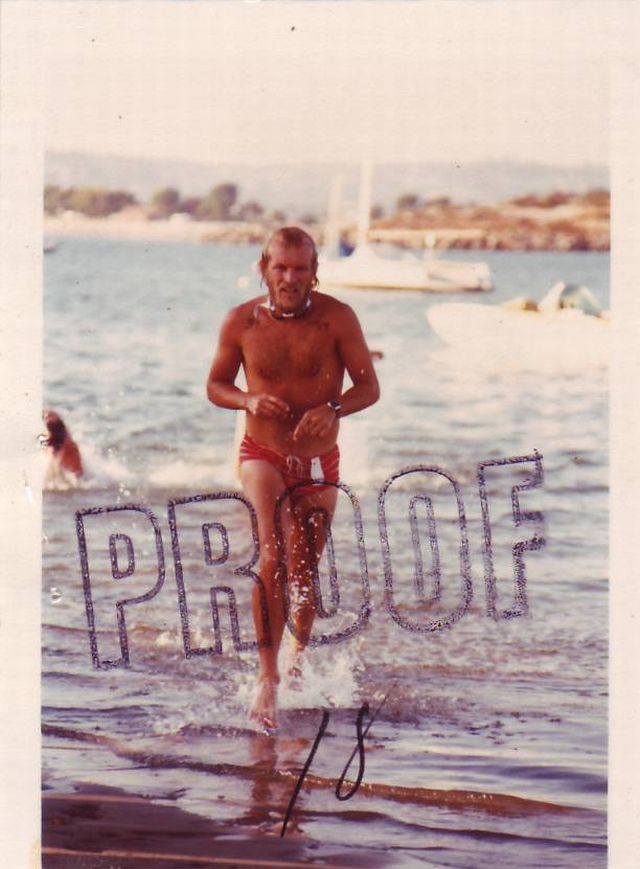 My background includes participating in high school football and swimming. I swam the 400 yard in high school, because nobody else on the team wanted to swim long distance. So that where they put the slow guys. My best time was 5:41 when I was a junior. I was improving every week and when the season ended, I stopped. I started back to swimming when I heard about a race called the Ironman. I used to visit Tug's regularly and remembering reading about it from the Sports Illustrated article about Tom Warren winning the 1979 Ironman. Also, about that time, all my friends were getting married and I had no one to play with any more. So to make a long story short, I completed the both Ironman's in 1982 and 1983, as well as the 1983 LA Ironman. I also completed the first 5 Horny Toad half Ironmans. I was not invited to the 1986 Horny Toad. My swim times for the Ironman are as follows:
| | | |
| --- | --- | --- |
| Race | Time | Comments |
| 1982 Feb Ironman | 78-79 minutes | The course was mis-marked, everyone's swim time was about 10 minutes longer. I swam about 6000 meters a week, using just 2000 LSD swims. No intervals. |
| 1982 Oct | 68 minutes | I swam comfortably. I swam about 10000 meters a week. Maybe i did some intervals. I could go back and look at my logs, but that would be too much work for now. |
| 1983 LA Ironman | ? | I have the time some where. But i wanted to say, that i was up at the front of this race, because the water was so cold. When i finished the swim, every was freezing, i hopped on my bike and took off. Later I would hook up with Jenny Lamott and we wrote the bike course together. This was a great race. So much easier than Kona. Great scenery. The race had spent something like 100K on traffic control. It was great going through LA and seeing all the traffic jams. We had police escorts on the run. You should have been there. Another interesting note, I swam right next to the woman who won the race. She was tethered by a clothes line to her husband, who was leading her through the swim. Who that was, well that's your home work. The first person to identify who that woman is and email tugs@tugs-t-shirt.com with the persons name, gets a free tugs t shirt. |
| 1983 Ironman | 66 Minutes | My training was about 10000 meters a week. Once a week I would do about 6x200's at the Plunge in 2:37 range and later in the week a hard 2000 yards. The rest was 2000 meter LSD swims at the YMCA. I recall my best time to be about 27 minutes something at the Plunge for 2000 yards, That was moving for me. That pace is under the 5:40 I swam in High school. I should have done better in the Ironman swim. The 83 Ironman was tough. |
| | | |
So with my Ironman style of training of 2000 LSDs and some 200's, I am hoping to try Dave Scotts training methods and compare my results at the age of 56 to my age 31 to 33 resullts. Also, I am not a very good ocean swimmer. One of my nemesis is Mac Larson. I can kick Macs ass in any Pool and for any type of workout, but i can't kick is butt in the Ocean. That's roughly how i met him years ago. In races, we would always come out of the water right next to each other.